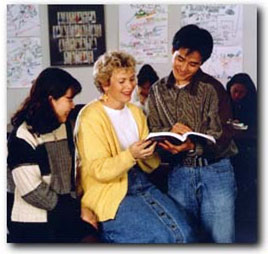 Welcome to
English For Living Inc
, your online source for standardized English training programs. We are happy that you have chosen to Learn with EFL. Our courses are carefully planned and administered to eliminate unnecessary repetition. We have six General English Programs and many specialist English programs to suite your personal and professional needs. EFL believes that a students ability to learn is a combination of self motivation and the mentoring provided by the careful attention of a skilled Instructor. Matching the student with the best instructor is EFL method of ensuring quality English education and a memorable experience for both Instructor and student. Students first select their choice of instructors by reviewing a recommended list of Instructors provided by the EFL system. Instructors then interview the student to determine if they are qualified professionally for the requested EFL program instructor skill requirements and determine from reviewing the Client profile if their characteristics would be a good match. This ensures that the client is learning what they need as outlined in the EFL curriculum and not repeat content or program which they already mastered from personal training or other English programs. Clients will have an Instructor who is best matched to care in their leaning. For example they may be at one level for their grammar class, and may be in a different level for the conversation class.
At EFL, we realize that each student has unique learning abilities, language skills and developmental needs. Our system assesses students' written and oral capabilities, so that every student is matched to an appropriate EFL program level and with the right instructor to instruct the standardized program. If students are placed in the level appropriate for their English training needs, they learn effectively and quickly. All classes are generally taught on a one on one basis or in a smaller group setting allowing the student to progress at their own pace.
Here is a list of programs we offer:
EFL general English
This is considered an absolute beginner level or a student with virtually no English knowledge beyond communicating with common gestures or isolated words.
Client can use simple words and phrases, fill out simple forms, understand some reading, and fill job positions where very basic oral and written English is required.
Can understand signs and maps, simple forms, schedules, and directions. Entry-level jobs with written and oral English are achievable.
Is able to achieve basic social and survival English skills, can understand and perform simple written and oral communication on the phone, in-person, written messages, forms, and job applications.
Phone use, cultural awareness; jobs with written and oral instruction and basic survival skills are performed.
English used in work and social situations. Student can interpret charts, forms, applications and graphs. Phone communication, radio and TV are a minimal problem.
EFL Specialized
Our TOEFL program is divided into four areas.
Client will review basic grammar, build vocabulary and develop reading and listening skills. Students also complete some practice TOEFL tests.

Students learn TOEFL test strategies while enhancing their reading, writing and grammar skills. Students also complete practice TOEFL tests.

Same as Intermediate TOEFL, but material covered is at a more advanced level. Material studied in Intermediate TOEFL is not repeated in Advanced TOEFL.

This course focuses on Computer Based Test (CBT) strategies. Students also enhance vocabulary and writing skills. Much of the time is spent in the computer lab.
Our TOEIC Preparation Program helps students achieve high TOEIC scores. It does not focus on general English language skills. There are 3 levels.
English courses with practicum assignments. Students' English language skills improve while they gain practical work experience in the medical field.
English courses with practicum assignments. Students' English language skills improve while they gain practical work experience in the Legal field.
Combines business English courses with practicum assignments. Students' English language skills improve, while they gain practical work experience.
Are there any courses that we presently do not offer that you:
Would like to see offered
Have taught or have experience in teaching
Please give us your feedback and suggestions at suggestions@englishforliving.com